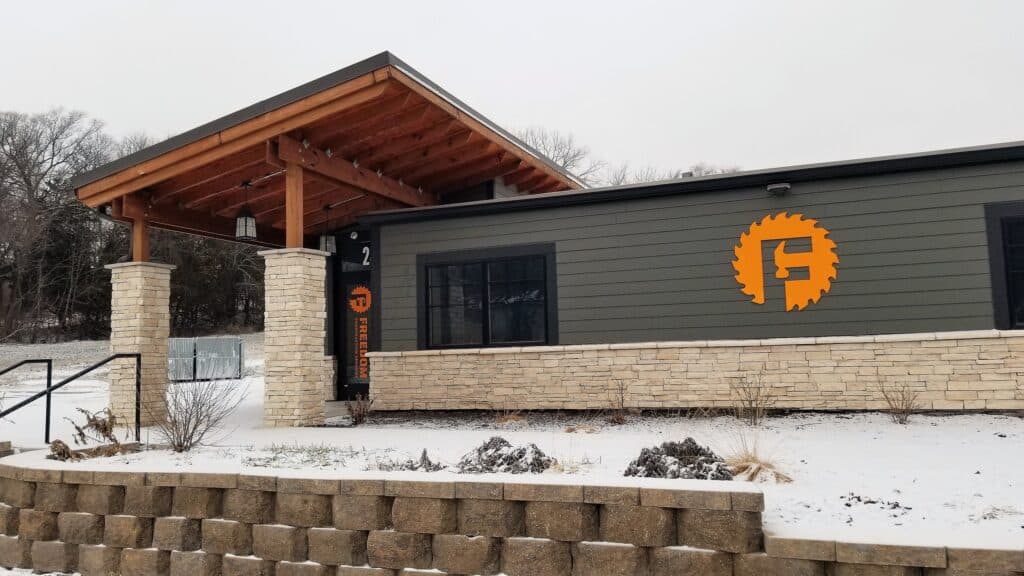 Freedom Construction Services
Freedom Construction Services is a paid, pre-apprenticeship program of Freedom for Youth Ministries that teaches basic trades, essential employment, and critical life skills, within the walls of a fully operational construction company.
FCS introduces students to many different trades such as finish carpentry, plumbing, electrical, and HVAC skills, under instruction and close supervision by veteran teachers and mentors skilled in the construction trades. While learning valuable skills in a social enterprise, participants build the muscle for long-term employability.
We sat down for coffee with Mark Nelson, Executive Director of Freedom for Youth Ministries, to learn more about this wonderful program and what it means to our community. We've got the need-to-know info here.
"We're giving these students an opportunity and allowing them to do it themselves. They enter through the door meek and leave standing tall with their tool belt on. It's fun to watch them mature."  ~ Mark Nelson
Need to Know
The program started in October 2020. It introduces students to many different trades and consists of book knowledge and hands-on training. There are many different aspects to what students will learn.
All of their students are ages 18-25, and most of them are males. Many of them are African refugees. Surrounded by a component of faith, they learn about citizenship, discuss conflict resolution, and learn how to be respectful employees.
They bring in speakers such as HR directors that teach them how to interview well. This can include learning about cultural differences and what is acceptable in this country. They even have ESL classes. Students are taught the importance of being on time, having a good attitude, and working hard all day. Some students need help getting a driver's license and are taught how to drive.
"You can teach them the basics of carpentry, plumbing, and mechanics, but if they don't have character, ethics, integrity, and respect for authority, then they won't be successful long-term."
Students learn that money isn't just about living in the moment but also about planning for the future. They have to learn to save and budget. An instructor might take a student grocery shopping and show them how to stretch their dollar. They learn about nutrition and how they should think about the fact that Doritos taste good, but they're not nutritious, and cost more than healthier alternatives.
How does their program work?
It's an all-day program that goes for one year and includes four hours per week of personal and professional development classes.
At nine months, they begin job shadowing where a company can try them out.
Students receive 10 hours of OSHA training and also get certified in forklifts, boom, scissors, and skid loaders.
Trades that are explored include:
Carpentry
Framing
Flooring
Electrical
Plumbing
Painting
HVAC
Welding
Graduates of the program are working at several different construction companies around the metro area. Each student costs FCS about $6,000 during the first three months of in-house training.
"Over 90% of graduates have continued with the first employer that hired them."
Questions for Mark
What projects have generated the most interest?  What current projects are you working on?
"Large jobs, such as basement remodels. We also do smaller jobs such as decks, new floor tiling, and new vanities. We're currently working for a local non-profit reframing, drywall, and general rehabbing of a 100-year-old building."
What are your current needs?
"A pool of part-time foremen with different skills to pass on their education to the next generation. We're always looking for plumbers, electricians, and HVAC technicians. Volunteers that will show them the basics of how things work. Just a few hours a week would be enormously beneficial."
What projects do you NOT do?
"We currently don't offer services for roofing, concrete, siding, plumbing, or electrical. We are not out to do licensed work."
What should homeowners know before hiring Freedom Construction?
"Skilled foremen are always there. Jobs may take longer because there is training going on. But the cost is usually less than elsewhere. We will come back until the job is done to the customer's satisfaction."
What are your future goals for the program?
"We would like to have one class each quarter with 24+ students per year. This program is so successful that other communities have expressed interest in starting their own programs such as Waterloo and the Quad Cities."
For Homeowners
How could the average homeowner take advantage of Freedom Construction Services?
"Any job can be bid. Give us a call, and we'll take a look at what needs to be done."
Their phone number is 515-313-0500.
Resources
Interested in applying or know someone who is? The next class starts in February!
Volunteers Needed!
Unable to volunteer, but want to help cover the costs?
Would you like to read more about FCS?